The Power of Love | Many Paths to Peace
June 10, 2017 @ 7:00 PM

-

9:00 PM
Event Navigation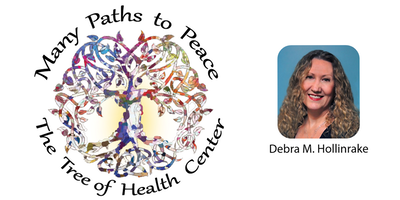 The Power of Love
with Debra M. Hollinrake, C.LAC
Date:  June 10th
Time:  7:00 to 9:00 PM
Where:  Jen Murphy Fitness, 113 W Harford St, Milford PA 18337
What is more important than love?  Debra will discuss love's essence, unconditional in nature, and how to reflect it toward others in everyday life.  She will help you to remember that love is that from which we are made, and how treading the path of love brings us to a deep and lasting peace.  A guided meditation and interactive discussion will follow, to deepen your ability to flow love out into the world.
Debra M. Hollinrake is a Partner with The Tree of Health Center in Newton, NJ. where she is an advanced certified Emotional Freedom Techniques (EFT-Tapping) practitioner and Light Worker.  She is a trained spiritual teacher through the International College of Metaphysical Theology and Modern Mystery School International, and teaches Mindfulness, Singing and Egyptian meditation.
For more information, please contact (973) 500-8813 or info@ttohc.com, or visit http://tree-health.com/many-paths-to-peace.
The Tree of Health Center © All Rights Reserved
55 Newton-Sparta Rd., Unit 107, Newton, NJ 07860 | Phone: (973) 500-8813