Introduction to Dineh Healing | Many Paths to Peace
July 22 @ 7:00 PM

-

9:00 PM

$60.00
Event Navigation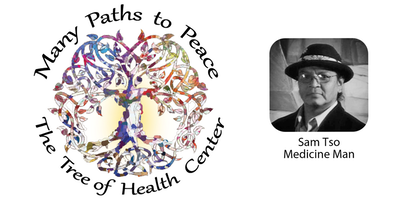 Introduction to Dineh Healing
with Sam Tso, Medicine Man
Date:  July 22nd
Time:  7:00 to 9:00 PM
Where:  Jen Murphy Fitness, 113 W Harford St, Milford PA 18337
Sam will do a healing circle. The direction it takes depends on the folks in the circle. He will introduce himself and his Dineh spirituality, describe the prayers and then commence. People will be blessed by pipe or feather & smudge depending on the venue & the people in circle.
Sam Tso, is a Dineh (Navajo) Medicine Man. He grew up in training since the age of 4. He learned herbal & alternative healing, storytelling & ceremonies. English is his 2nd language, so these are done in Dineh. (He does explain quite beautifully what it all means in English.) He lives near Flagstaff & the Navajo reservation in northern Arizona.
For more information, please contact (973) 500-8813 or info@ttohc.com, or visit http://tree-health.com/many-paths-to-peace.